Buddha Museum's Poster Displayed on ICOM
2022/09/01
Bridging the World
Text&Pic | Buddha Museum International Affairs Department
At its 26th edition, the ICOM triennial General Conference, held in August 2022, is one of the most significant global events dedicated to museums and its professionals. Since 1948, an ever-growing number of participants from all continents have been gathering to discuss and share ideas related to the topical issues facing museums. Bringing together more than 4,500 professionals to its last edition, the ICOM General Conference is a worldwide hub that encourages international cooperation in the museum sector.
This year's conference includes a Call for Posters. A total of 193 posters from museums all around the world were selected for discussion in the 21 international ICOM committees. The Buddha Museum's poster, titled "The Power of Buddha Museum,"has been selected by the International Committee for Education and Cultural Action (CECA).
This poster was designed for this year's International Museum Day and the Buddha's Birthday celebrations held in May 2022. The hand at the bottom is in the gesture of the lotus mudra, in which the thumb and middle finger are joined, to symbolize respectful greetings to all visitors. The heart shape symbol with a hand gesture and a smiling face in it represents the core values of the Buddha Museum, which are the "Three Acts of Goodness" and the "Four Givings."
The powers of achieving sustainability, of innovating on digitalization and accessibility, and of community building through education are reflected in three different parts of the poster. Firstly, they are shown in the form of a Baby Buddha to signify (1) the important occasion of the Buddha's birth, and (2) the work involved in promoting the Buddhist underground palaces. Secondly, they are shown in the form of a myriad cloud to signify the ongoing work the museum is currently undertaking. Thirdly, they are shown in the color segments at the bottom to signify how the May activities are carried out in accordance with the theme.
See all posters at https://icomprague2022.gcon.me/topics.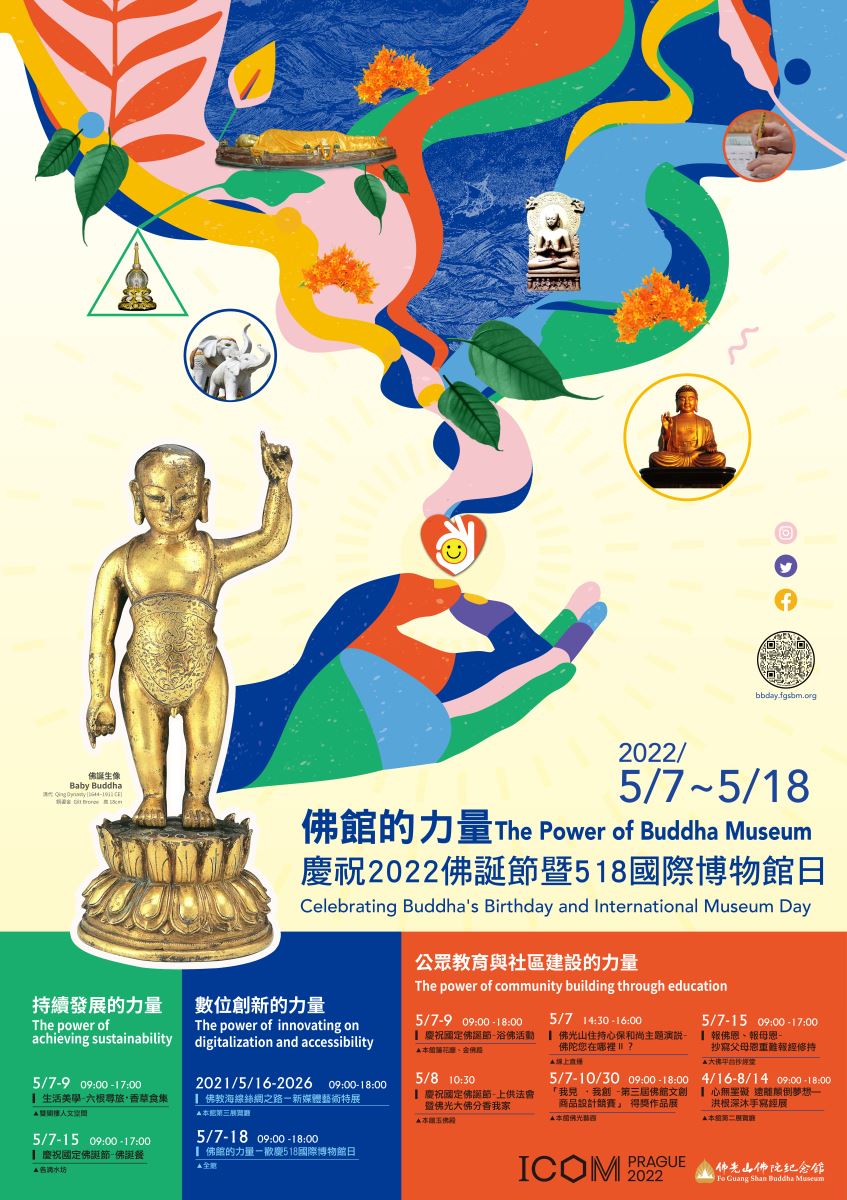 Pic |"The Power of Buddha Museum" poster was displayed on ICOM virtual platform by CECA
---